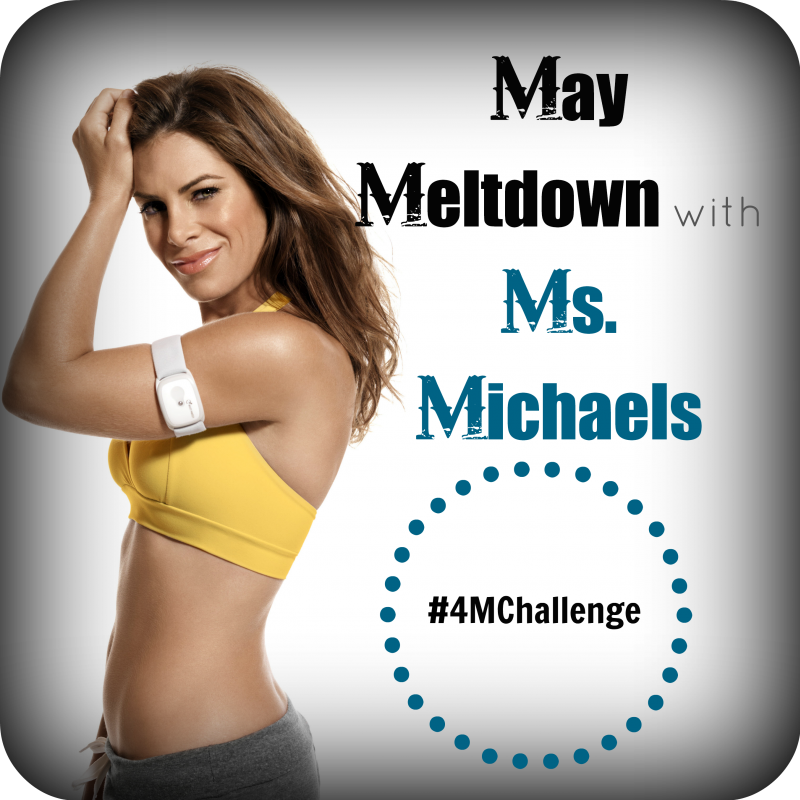 Over the last several months, I've become a new Jillian Michael's work out DVD addict! I began with 6 Week Six Pack, you can read that review here, and then launched into Jillian's new DVD Killer ABs. When

Kyra over at

It Takes 9 Months

, emailed me about a final

Operation Red Bikini

push with Ms. Jillian Michaels, during the month of May, I knew I was all in!

Kate

,

Kara, Kristie

,

Meredith and myself all committed to and completed the #4MChallenge, with one of us even completing her work outs on vacation in Las Vegas. Super star commitment status!
I've never been one to enjoy an at home work out series as there are many distractions at home and I thrive within the social atmosphere that comes with a gym membership. That said, these 30 minute work outs with Jillian fit wonderfully into my schedule, especially early in the morning, no travel time, and on days when the gym is closed.Since I began focusing on core work with Jillian, I have noticed significant fat loss and increased muscle definition in my mid section. Consistency is key with all of Jillian's work outs, which is also the major compliant I hear from others regarding the at home series-
The repetitive nature of the DVD is boring!
There's really no getting around that fact. It can be boring to complete the same work outs day in and day out. Yes her sayings can get annoying. However, the mute button and an ipod can help to defeat those complaints as well as frequently switching up her DVDS. All of her DVDs are incredibly affordable and require minimum at home equipment.
.
Jillian does a fantastic job of bridging the gap between fitness levels. I've felt consistently challenged with her work outs, and I'm getting results! I have never in my life felt so fantastic about my stomach. However, I must point out these are combination results from my macro diet, you can't compete with what you eat!
Playing favorites:
I prefer Killer Abs to 6 Week Six Pack for a few reasons. Mainly, the set up of the exercise program. 6 Week Six Pack contains two levels of increasing intensity. Within those separate work outs there are two long combinations of exercises, each repeat twice. Killer Abs contains three levels of separate work outs each increasing in intensity. Within each of those separate work outs there are four smaller combinations of exercises each repeated twice. This format works at keeping me entertained and from feeling bored. Additionally, I moved through these levels very quickly. I decided to start with Level One on Killer Abs. This level was far to basic for my fitness level. Aka I was hella bored. I only completed level one on the first day of the May Meltdown. Day Two I moved up to Level Two and completed this routine 10 times, before jumping into Level Three.
I won't sugar coat Level Three. It's incredibly difficult. It assumes a high level of strength and balance as well as core strength. She focuses a heavy amount on planking, push ups, etc. Day one on Level Three, I actually cursed her out loud. The Work Out is KILLER. Hence the name. I'm going to continue with the DVD throughout June as well, because I'm LOVING it.
Which Jillian DVD is your favorite? Why?
Weekly Work Out Goals:
Monday:
RIPPED
Tuesday:
Killer Abs Level 3
5 Mile Run
Back & Shoulders
Wednesday:
Killer Abs Level 3
Circuit Training
Leg Day
Thursday:
Killer Abs Level 3
Circuit Training
Biceps & Triceps
Friday:
Treadmill Speed Training
Killer Abs Level 3
Saturday:
5k Race
Sunday:
Rest
Tomorrow-
Operation Red Bikini
Winners to be announced Also, forgive me ya'll, I'm about a week behind responding to emails. I haven't forgotten about anyone, I'm just moving slow!
I hope you had a phenomenal weekend! New month, new chance to get everything right!